About Glenpark Animal Hospital
Glenpark Animal Hospital was founded by Dr. Martin in the early 1950's. At that time he had no staff and did it all himself. Now we have bright new building with an awesome veterinarian Dr. Karyn Houser, welcoming Hospital Manager, friendly receptionists, and two highly skilled veterinary technicians! We also have 4 veterinarians, as well as numerous receptionist, licensed veterinary technicians, and assistants on call if ever needed to fill in on busy days. We have a dedicated staff with 51 years of experience just waiting to care for your pets.
We are a well established, full service, small animal veterinary hospital providing comprehensive medical, surgical, and dental care. We provide a broad range of diagnostic procedures through in house testing and the use of external laboratories. We also have a close working relationship with other local practices and referral clinics when special diagnostic procedures are required.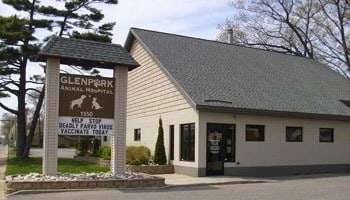 Dedicated Care 
Our facility includes a well-stocked pharmacy, in hospital surgery suite, in house radiology, and a closely supervised hospitalization area. At Glenpark Animal Hospital we strive to offer not only sound advice, but also optimal veterinary care, thus allowing you the enjoyment of your companion for a maximum number of years. Our job is not only to treat your pet when he or she isn't feeling well, but also to help you learn how to keep your best friend happy and healthy.  We believe in providing caring, consistent, and thorough clinical services to your pet. Whether you are visiting for a routine, affordable cost procedure or an emergency visit, you can expect the same level of excellent care- every visit.