Our Veterinarians
When a family member is under the weather or suffering from discomfort, he deserves the attention of a caring, competent physician with the skills to diagnose his ailment and the compassion to treat him with tenderness.
At Glenpark Animal Hospital, an expert staff of veterinarian doctors and a skilled team of technicians are here to do just that. Under the directorship of our highly skilled veterinary doctors, your pet is always in good hands. We're ready when your pet needs us.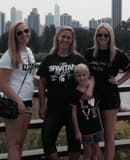 Dr. Karyn Houser
Dr. Karyn Houser was born in Lansing where she lived until graduating from Michigan State University, College of Veterinary Medicine in 1995. She then moved to Fremont, MI where she spent the majority of her career until moving back to Lansing in 2010. She and her 3 daughters missed the west side of the state so they moved back to West Michigan and she began working at Glenpark Animal Hospital in February of 2013. She has a special interest in soft tissue surgery and exotic animal medicine. Dr. Houser is an avid sports fan, enjoying watching everything from Tigers baseball to Red Wings hockey, but her favorite, of course, are the MSU Spartans! She also enjoys reading, hanging out with her kids, and running. Along with her human kids, she lives with 2 English Setters, 7 cats, and a rabbit (who is sure she is a cat as well)/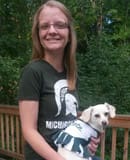 Dr. Susan Graham
Dr. Susan Graham is a 2014 graduate of the Michigan State University of Veterinarian Medicine. She also attended MSU for her undergraduate studies in animal science. Go Green!! She is a Michigan native and grew up in the Grand Rapids area. At home she has one rescue dog, Greta. When not at the clinic she enjoys taking long walks with Greta, knitting, and card making.